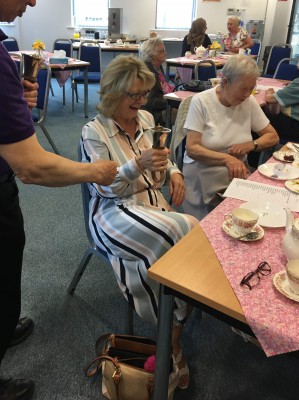 One
of our ringers, Diane, works for Royds which brands itself as 'a local charity
for local people' and they arranged an event on 5th July under the NHS 70 Tea
banner.
They
held their tea party at their headquarters on their enterprise park in South
Bradford. Those attending where mainly members of their staff, local residents
and people who make use of their other facilities including a number of elderly
residents.
As
the event was held in the middle of the day we had even more difficulty than
usual putting together a band and only knew a few days before that six of us
would be able to attend to play music arranged for 12 bells.
Still
we managed it!
We
played a few pieces and then were treated to a real afternoon tea including
sandwiches with the crusts cut off, salads, baked salmon, cakes and scones with
jam and cream – all served on china plates. Each table had a vase of flowers
and their own teapot and milk jug from which tea was poured into china cups – a
far cry from our usual rehearsal time mugs!
Of
course every treat comes with hitch – in this case a fiendishly difficult quiz
to work out Yorkshire place names from the literal translations of the ancient
works – we might have known that Broad ford was the meaning of Bradford but how
many of us knew Ilkley meant Ylica's clearing?
After
tea we took the bells around the tables to show them off and although they were
very interested on this occasion none of the audience were brave enough to
'have a go' in front of everyone else.
We
then departed feeling well sated and probably did not need to eat again that
day!